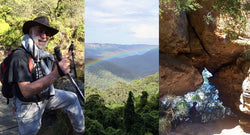 A meander through the Aussie bush sounds like the perfect Sunday activity, but for a newbie walker, it can be hard to know where to begin.
Faced with hundreds of trails to choose from and hiking boots you'd have to re-mortgage your house to afford, we knew it was time to turn to an expert.
Whether he's trekking in Nepal or bashing through the Blue Mountains bush, there's not much about bushwalking that doesn't capture Bruce Henderson's imagination.
Armed with a Survival First Aid KIT, a love of nature and a hearty smile, we sat down with Bruce to get his hot tips for budding hikers.