Roll over image to zoom in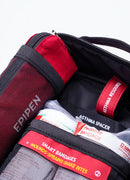 Description
When you're entrusted with the lives of children, their health and safety will always be your top priority.
Specially designed with school playgrounds, excursions and camps in mind, our School Playground Bundle is the on-the-go safety essential that allows teachers, carers, volunteers and parents to easily carry all the vital first aid equipment they need.
With this jam-packed Bundle, you'll have peace of mind knowing you can deal with minor and major first aid emergencies, including snake bites – anywhere, anytime, on anyone.
Our innovative School Playground Bundle consists of:
Our innovative new Grab&Go First Aid KIT is portable, practical and fully equipped to help you deal with a wide range of injuries on babies, toddlers, teens and adults.
On duty in the school yard? Getting ready for school camp? Heading out on an excursion?
This is the portable first aid solution you can trust.
Designed in Australia by leading first aid experts and developed in conjunction with SSSafe, this unique KIT is built around the success of SURVIVAL's revolutionary SMART Bandage.
This KIT comes complete with all the first aid contents you need to assist in the onsite treatment of a venomous and potentially deadly snake or Funnel-web spider bite.
+ Under pressure? We've got your back.
Each KIT contains the lifesaving instructions you need to follow for correct snake bite bandage technique and treatment.
Make the smart choice. Don't go exploring with kids without one.
Components - Snake Bite KIT
1 x Cotton gauze swabs (3 per pack), sterile, 7.5cm x 7.5cm
1 x Emergency blanket, 2.1m x 1.6m in zip lock bag
1 x Mini black permanent marker
2 x Nitrile gloves
3 x Pressure bandages - 2 SMART Bandages, heavy duty, reuseable and washable, 10cm x 2m; 1 medium weight, 10cm x 1.8m
1 x Snake bite instruction card, includes bite record register and CPR instruction card
1 x Splint, 11cm (W) x 61cm (L)
Components - Grab&Go First Aid KIT
+ KIT Components:
Nitrile gloves (pair) x 2
Shears x 1
Tweezers x 1
Cotton gauze swabs (pack of 3) x 2
First Aid in Brief Booklet x 1
Pencil x1
Emergency Foil Blanket x 1
30ml Saline x 2
Eye cup x1
SMART Snake Bandage (pressure bandage) x 2
Hypo allergenic tape x 1
Triangular Bandage x1
Asthma Instructions Card x 1
Snake Bite Instruction Card x 1
Asset Inspection Card x1 (front pocket)
+ SURVIVAL Wallet Components:
Adhesive dressings x 50
Wound Closure x 1
Probes (pack of 5) x 1
+ CPR KIT Components:
Skin cleaning wipes with cetrimide x 1
Nitrile gloves (pair) x 1
Resuscitation Face Shield (disposable) x 1
+ KIT Features:
Shoulder Strap x 1
Waist Strap x 1 for traditional bum bag use
Epipen Insulated Bag Holder (epipen not included) x1
Asthma Resources Pockets (Pocket #1: empty for user to add puffer. Pocket #2: empty for disposable foldable spacer - designed for disposable portable spacers)
Payment & Security
Your payment information is processed securely. We do not store credit card details nor have access to your credit card information.
Total 5 star reviews: 6
Total 4 star reviews: 0
Total 3 star reviews: 0
Total 2 star reviews: 0
Total 1 star reviews: 0
100%
would recommend this product
School playground bundle

Very well packed and has everything you need for camping

Bundle

Perfect bundle for school and doubles at home!

T W.

Verified Buyer

Great value for money

This bundle is great. If you like going on bushwalks it has the Snake kit, which has everything you need for a bite inside. Definitely a good idea to have one if you know you have snakes in your area.

The Grab&go first aid kit is easily the best first aid kit survival stocks. I have had one before and it was permanently borrowed by a family member as it was just that good. It's small enough to fit in a good sized bag or go over your shoulder. It's easy to take with you to kids sporting events or other places were it might be handy. It has the most useful items inside and is well organised. The asthma puffer and collapsible cardboard spacer definitely fit. I have them in mine right now. I don't need an epipen so I haven't filled that one but it looks just as well organised for it. The best bit is that the Band-Aid section can be moved to the outside of the bag as it is the most used part of the kit and put back in once you are done. Over my time using the kits I can say it is the easiest to bring everywhere I need it, even though the other kits are not too bulky this one seems to be just the right size for me. The Grab&go kit seems to contain everything you learn how to use in a first aid certificate, so if you have done one you should know how to use everything inside.

Noel G.

Verified Buyer

Excellent service.

From initial contact, through to a telephone conversation.

I could not fault the advice and service.

Daniel H.

Verified Buyer

Organised and Well Labeled Kit

We purchased the School Playground Bundle as we predominately wanted a First Aid Kit that would be compact and suitable for bushwalks with our children and this kit fits the brief perfectly.

I love that the survival kits are labeled so well making them super easy to select what product is needed.

The Snake Bite Kit is a fantastic little waterproof kit that can easily attach to our backpacks and bikes. Let's hope we never have to use it, but if we do it has easy instructions to help assist with onsite treatment of a snake bite.

Great quality and fast delivery, I would definitely order again.
Reviews Loaded
Reviews Added
See our customers with their School Playground Bundle